Making it count: Leader in fee based solutions
With mutual funds and ETFs, BMO GAM is one of the fastest growing asset managers in the world. BMO GAM is committed to providing meaningful innovation through our comprehensive investment solutions. With global reach and specialized expertise, we can help you exceed your client's needs by offering our lowest possible fees to everyone.
On average, BMO Mutual Funds Series F Management Fees now 25% lower than their Category Average*
---
As Canada's leading provider of both F Series Mutual Funds and ETFs, we are committed to reducing fees across our award winning mutual fund and ETF solutions1 and offering new innovative solutions. We understand the need for fees to be transparent, easy to understand, and of course low. We also understand that investors and advisors want innovative investment solutions to help achieve their financial goals. By offering our lowest cost solutions, regardless of portfolio size and without the complexity of fee tiers and paperwork, everyone can benefit from BMO Global Asset Management's fee based solutions.

---
Since the launch of BMO ETFs in 2009, BMO GAM has been constantly improving both our F Series Mutual Funds and ETFs. Partner with an industry leader who is committed to keeping fees low and provides the full spectrum of solutions meeting a diverse range of needs including, mutual funds, ETFs, and cash flow solutions.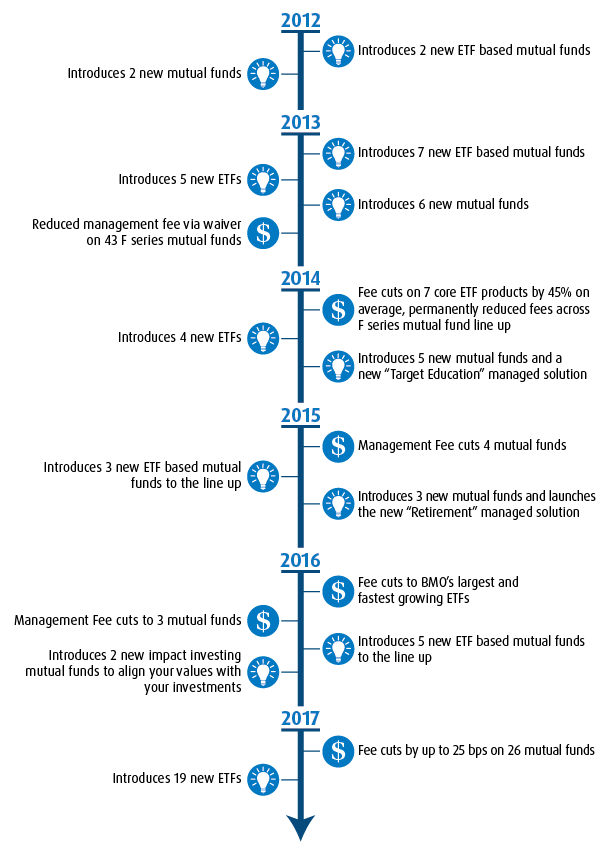 ---
Industry Leading, Low Cost Solutions
| | Industry Median Management Fee | BMO Mutual Funds Average Management Fee | Difference | % lower |
| --- | --- | --- | --- | --- |
| Canadian Equity | 0.85% | 0.50% | 0.35 | -41% |
| Canadian Dividend & Income Equity | 0.85% | 0.53% | 0.32 | -38% |
| Canadian Neutral Balanced | 0.82% | 0.48% | 0.34 | -41% |
| Global Equity | 1.00% | 0.7% | 0.3 | -30% |
| Global Fixed Income | 0.75% | 0.49% | 0.26 | -35% |
| U.S. Equity | 0.85% | 0.54% | 0.31 | -36% |
---
Choice
Choose from our fully diversified and competitively priced fee-based investment line-up, including Series F, Series F4, Series F6 Mutual Funds and Exchange Traded Funds (ETFs).
Transparency
With fee based accounts, the investor and advisor set the advisor commission outside the fund. Through this negotiation, the investor knows exactly the cost of advice. Transparency of costs help investors make informed decision about their investments.
Client trust
Negotiating a fee with each client allows flexibility to offer clients a rate that best suits their needs. Tailored solutions ensure alignment with a clients' interest, allowing you to establish a long term, trustworthy relationship.
---