A Shelter from Potential Market Uncertainty
Low-volatility ETFs are becoming a well-known concept to Advisors, designed to offer risk-focused clients the potential for equity market exposure with downside protection – a strategy that can lead to outperformance in the long term, as less volatile or defensive stocks may benefit from a smaller decline during market corrections, while still increasing during advancing markets.
Having grown in popularity in the U.S., low-volatility ETFs fit into the "smart beta" category – appealing to those looking for a different risk/return profile than the traditional market-cap-weighted indices provide, with all of the inherent benefits of an ETF – liquidity, transparency, lower cost, etc.
The current appetite for low-volatility ETFs comes as no surprise: equity markets overall have had a great run, prompting some to be concerned about a potential selloff, and also, as their track record has become more established (the largest U.S. low-volatility ETF has >$5B in AUM*), investors have become familiar, and comfortable, with the asset class.
Enter… Low Beta as a Measure of Volatility
To assess volatility, many providers use standard deviation as the primary indicator. At BMO Global Asset Management, we decided to go our own route for our low-volatility ETFs, and created a construct that adopts a beta calculation. In fact, we are the only ETF provider in Canada to use this methodology.
The rationale is that we believe beta to be the best way to access the low-volatility factor, since clients are looking to mitigate the risk of large market downswings, and beta measures a securities risk relative to the market. Also, while we focus on the one-year beta, we look at the beta over the past five years, helping to ensure the stocks we access are less volatile relative to the broad market on a go-forward basis.
Our low-volatility strategy allows investors to access a risk level that is lower than the broad market and to potentially shelter their investments from market uncertainty.
Due to our portfolio construction oversight, we have a more balanced sector approach than the traditional Canadian marketplace, with less emphasis on the volatile resource sectors. In addition, we have seen outperformance within sectors by focusing on low-volatility stocks.
Two Low-Beta ETFs to Consider
As the charts below illustrate, the low-volatility strategy has outperformed the broad market over longer time periods. An additional benefit is the reduced risk level of the portfolio, which lessens swings in performance. Over the same period, we have observed the added benefit of an even better risk-adjusted return. So the lower volatility strategy can potentially provide a higher return over the long term, on both an absolute and a risk-adjusted basis.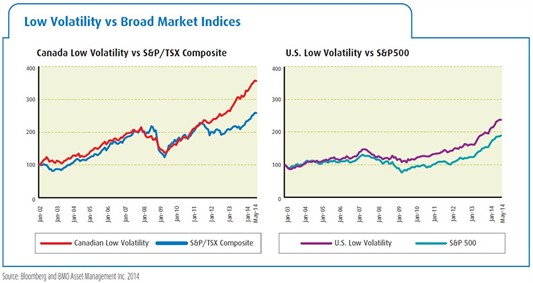 Now with a three-year history, the 5-star-rated** BMO Low Volatility Canadian Equity ETF (ZLB) has been designed to provide exposure to a low-beta-weighted portfolio of Canadian stocks. The Fund utilizes a rules-based methodology to select the least market-sensitive stocks based on five-year beta, thus avoiding any hidden risks that may not appear within the annual cycle. The 40 lowest beta stocks from the 100 largest and most liquid securities in Canada are selected. The fund maintains one of the best risk-adjusted returns in all of Canada over a three-year period, of any investment fund or asset class (20.92% annualized return as of December 31, 2014).
The BMO Low Volatility US Equity ETF (ZLU) has been designed to provide exposure to a low-beta-weighted portfolio of U.S. stocks. The ETF utilizes a rules-based methodology to select the 100 least market sensitive stocks from a universe of U.S. large-cap stocks and is ideal for investors who want a low-volatility strategy with U.S. equity exposure.
Find Out More
If you've got clients in your book reluctant to be fully in "grow mode," low-beta ETFs provide potential equity market upside without taking on all of the downside risk. For more information, contact your BMO Global Asset Management Regional Sales Representative.
* As of January 30, 2015.
** Morningstar, Inc. The Morningstar RatingTM is based on "expected utility theory," which recognizes that investors are a) more concerned about a possible poor outcome than an unexpectedly good outcome and b) willing to give up some portion of their expected return in exchange for greater certainty of return. The rating accounts for all variations in a fund's monthly performance, with more emphasis on downward variations. It rewards consistent performance and reduces the possibility of strong short-term performance masking the inherent risk of a fund.
This is not intended to serve as a complete analysis of every material fact regarding any company, industry or security. The opinions expressed here reflect our judgment at this date and are subject to change. Information has been obtained from sources we consider to be reliable, but we cannot guarantee the accuracy.
This article is prepared for general information only. This material does not constitute investment advice and is not intended as an endorsement of any specific investment. It does not have regard to the specific investment objectives, financial situation and the particular needs of any specific person who may receive this report. Investors should seek advice regarding the appropriateness of investing in any securities or investment strategies discussed or recommended in this report and should understand that statements regarding future prospects may not be realized. Investment involves risk.
BMO ETFs are managed and administered by BMO Asset Management Inc. an investment fund manager and portfolio manager and separate legal entity from the Bank of Montreal. Commissions, management fees and expenses all may be associated with investments in exchange traded funds. Please read the prospectus before investing. The funds are not guaranteed, their value changes frequently and past performance may not be repeated.