---
What are BMO ETF portfolios
ETF portfolios are an all-in-one solution that allow investors to target a specific risk level based on their investment goals. ETF portfolios combine several individual ETFs to build a well-diversified portfolio in a single mutual fund, where professional money managers strategically allocate money across various investment solutions.
BMO ETF Portfolios are comprised of award-winning BMO ETFs managed by our world class investment team. The investment team combines active fund management with passive ETF solutions to create innovative portfolios.
Use our ETF Portfolio Selector to find the right mix of equity and fixed income based on your client's investment horizon.
Investor benefits
Easy to use, all-in-one investment solutions that saves valuable time.
Targets a maximum potential return based on risk profile.
Offers a diversified portfolio of ETFs combined in a single mutual fund.
Provides professional portfolio management with ongoing monitoring.
Can be used as a core holding in a portfolio.
Are available at a lower cost structure than other managed programs.
All-in-one Investment Solutions
Find the right portfolio to meet your needs.
---
Full market cycle performance
BMO ETF Portfolios are core investments that deliver returns based on your risk profile. BMO Global Asset Management uses leading edge proprietary techniques to carefully manage the risk of each ETF portfolio to offer participation when markets are moving higher and downside protection when markets are in decline.

---
Save on fees
In the example below, a client invested in Portfolio A pays 0.5% less per year in management fees than the client invested in Portfolio B. On an initial $100,000 investment that grows at 6% annually for 30 years, the client invested in portfolio A saves more than $75,000.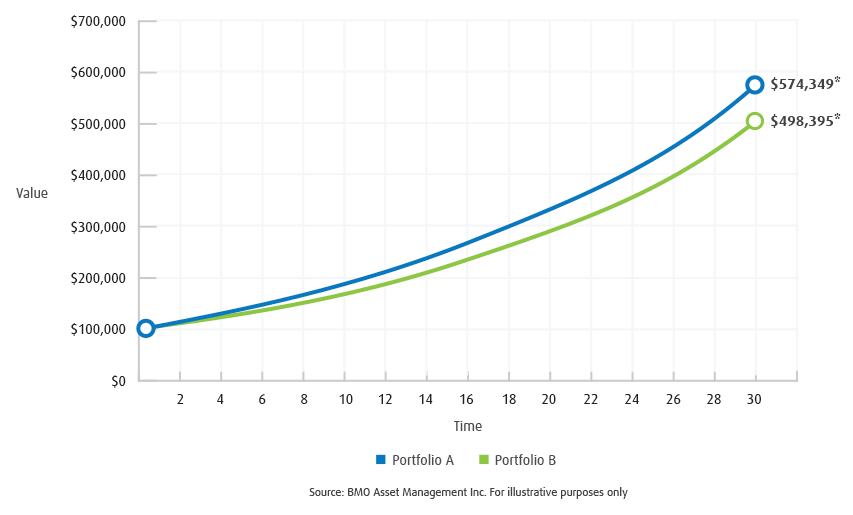 *Assumptions:
Two portfolios with an initial investment of $100,000 each
Portfolios are held for 30 years
Annual rate of return is 6% with no distributions
Portfolio A pays 0.5% less in fees each year
Learn more about BMO ETF Portfolios