Introducing BMO Shiller Select Us Index ETF (ZEUS)
A new school strategy
BMO Global Asset Management has partnered with Professor Robert J. Shiller and Barclays to launch BMO Shiller Select US Index ETF.
The first exchange traded fund (ETF) to track the Shiller Barclays CAPE® Single Stock Index, BMO Shiller Select US Index ETF employs an equal weight strategy that combines value and adds a momentum screen.
The Fund utilizes the Cyclically Adjusted Price Earnings (CAPE®) Ratio to identify undervalued stocks. By comparing current market price to historical, 10 year average inflation adjusted earnings, the CAPE® Ratio methodology provides unique insight into a company's potential long-term earning power.
Learn more about how the CAPE® Ratio methodology identifies and tracks " Old Standbys"; well established U.S. stocks with a long earnings histories, currently underpriced by the market.
---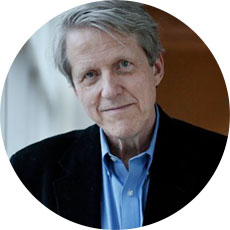 Professor Robert J Shiller
Robert Shiller is an American economist, best-selling author and Sterling Professor of Economics, Professor of Finance, and Fellow at the International Center for Finance at Yale University.
Professor Shiller is ranked among the 100 most influential economists in the world1. In 2010, he was named a top global thinker by Foreign Policy magazine2. In 2011, he was listed by Bloomberg as one of the 50 most influential people in global finance3.
Valuable Advisor Resources
Receive an exclusive view of Canada's ETF landscape by signing up for the BMO ETF Dashboard.
Navigate BMO's comprehensive ETF lineup with the BMO ETF Roadmap
---
BMO Global Asset Management is a brand name that comprises BMO Asset Management Inc., BMO Investments Inc., BMO Asset Management Corp. and BMO's specialized investment management firms. BMO ETFs are administered and managed by BMO Asset Management Inc., an investment fund manager and portfolio manager and a separate legal entity from the Bank of Montreal. Commissions, management fees and expenses all may be associated with investments in exchange traded funds. Please read the prospectus before investing. Exchange traded funds are not guaranteed, their values change frequently and past performance may not be repeated.
® "BMO (M-bar roundel symbol)" is a registered trademark of Bank of Montreal, used under licence.
The Shiller Barclays CAPE® Single Stock Index Family has been developed in part by RSBB-I, LLC, the research principal of which is Robert J. Shiller. RSBB-I, LLC is not an investment advisor, and does not guarantee the accuracy or completeness of the Shiller Barclays CAPE® Single Stock Index Family, or any data or methodology either included therein or upon which it is based. Neither RSBB-I, LLC nor Robert J. Shiller shall have any liability for any errors, omissions, or interruptions therein, and makes no warranties, express or implied, as to performance or results experienced by any party from the use of any information included therein or upon which it is based, and expressly disclaims all warranties of merchantability or fitness for a particular purpose with respect thereto, and shall not be liable for any claims or losses of any nature in connection with the use of such information, including but not limited to, lost profits or punitive or consequential damages, even if RSBB-I, LLC is advised of the possibility of same. Shiller Barclays CAPE® U.S. Single Stock Index is the intellectual property of Barclays Bank PLC and has been licensed for use in connection with the BMO Shiller Select US Index ETF (Ticker: ZEUS). ZEUS is not sponsored, endorsed, sold or promoted by Barclays Bank PLC or any of its affiliates.
Neither Barclays Bank PLC nor any of its affiliates makes any representations or warranties to holders of ZEUS or any member of the public regarding the advisability of investing in ZEUS.