BMO SmartFolio is your 'hands-free' personal investing solution that's easy and affordable. We start by getting to know you and align you to the right ETFAn ETF (Exchange Traded Fund) is an investment fund that represents a basket of stocks, bonds or other investments. Unlike conventional mutual funds, an ETF is traded on a stock exchange and often tracks a market index or may have a specific investment strategy. ETFs are an attractive investment option as they provide the investor a low cost option to build a well-diversified portfolio. model portfolio that best meets your investing needs - and we take it from there. A team of expert portfolio managers actively manages your portfolio to help keep you on track with your investment objectives. All you need to do is decide how much to invest and track your progress online through any device.
Get up to

$500

cash back*
| Invest | Get |
| --- | --- |
| $5,000 | $50 |
| $25,000 | $200 |
| $50,000 | $350 |
| $100,000 | $500 |
Offer ends October 31, 2016.
Get started
Use code PROMO500
*See Terms and Conditions for complete details.
---
---
---
---
STOP HESITATING. START INVESTING.
Invest for as little as $5,000 and enjoy one of the most affordable ways to have a professionally managed portfolio. Fees are calculated based on the percentage of holdings in your account.
Tell us about yourself and we'll set up your investor profile


Our expert portfolio managers will actively manage your ETF portfolio and rebalance it when required to keep it on track with your investment objectives

All you need to do is easily review your account from any device and track your performance against your goals
PROFESSIONALLY MANAGED
Our portfolios are actively managed by a team of professionals. Collectively, they manage more than $20 billion in assets and have over 300 years of experience. That's why we call them expert portfolio managers.
Based on the information you provide, we will recommend an ETF portfolio that addresses your investment objectives. Your portfolio will be professionally managed to make sure it stays aligned to your investment objectives.
Plus, if you want to know exactly what our portfolio managers are investing in, you can always view your detailed holdings and transaction history at any time online.
Get started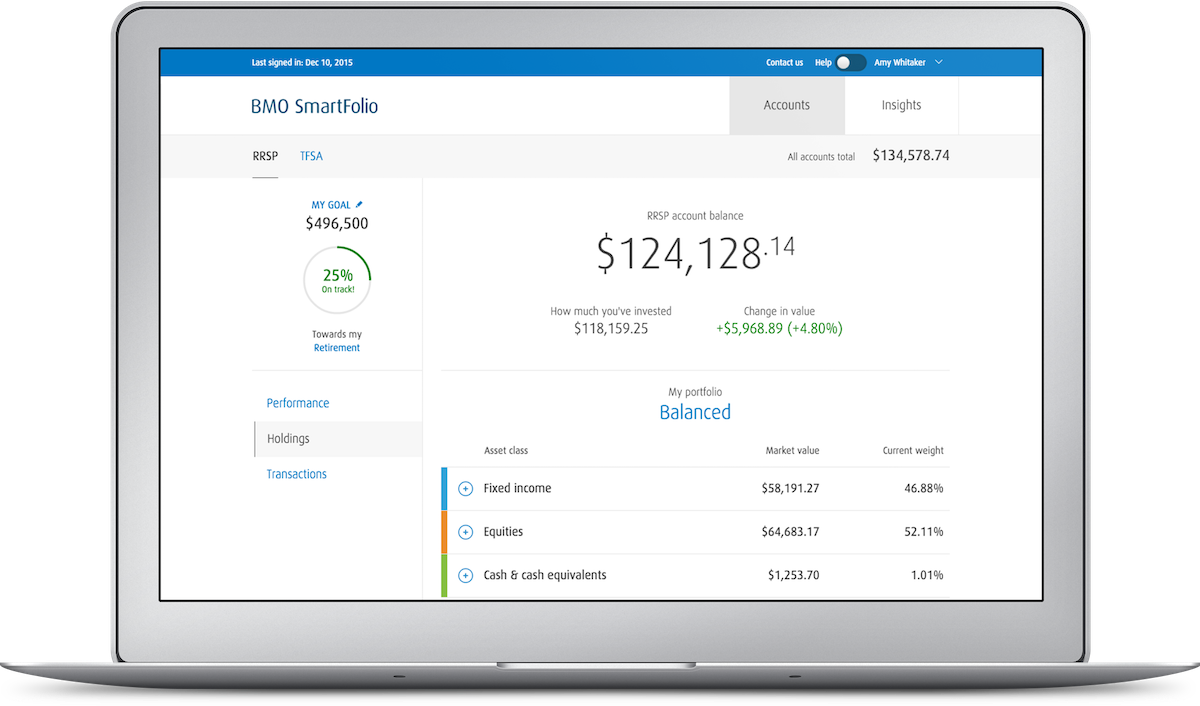 FEATURES
BMO SmartFolio provides you with many features that will simplify your investing while allowing you to enjoy the benefits of a professionally-managed portfolio for a low annual fee. Choose from many available account types to meet your investing needs.
AFFORDABLE ETF PORTFOLIOS
Our affordable ETF portfolios are primarily comprised of BMO Exchange Traded Funds. As a market leader, BMO offers a wide selection of ETFs to build a properly diversified portfolio aligned to your investing needs.
GOAL TRACKING
Through BMO SmartFolio you can easily input your goals and track your progress against your priorities. So whether you're investing for a house or retirement, we've got a range of portfolios available to help you get where you want to go.
HANDS-FREE INVESTING
With BMO SmartFolio, all you need to do is tell us your investment objectives and how much you want to invest. After that, simply track your progress or notify us of any changes to your investor profile. We'll take care of the rest.
ACCESS FROM ANYWHERE
You'll be able to sign into your secure BMO SmartFolio account and access your account and portfolio performance 24/7 from your computer, tablet or mobile device.
---
ANNUAL PRICING
We make it easy for you to see exactly what you'd pay per year. Your advisory fee is based on a percentage of your assets and covers all trading costs. Open an account with as little as $5,000.
All ETFs have management fees and expenses (calculated as management expense ratio - MER) which are in addition to the annual advisory fee. The MER of the ETFs held within your portfolio are anticipated to be a weighted average of 0.20% to 0.35% of the value of your SmartFolio account.
The minimum quarterly fee is $15 CAD. Minimum quarterly advisory fees are waived if you deposit $250 or greater in your account during that calendar quarter.
Use the interactive slider below to see what you pay annually based on your assets.
Review our annual fees
Your BMO SmartFolio account may be subject to additional fees. For details, refer to the Fee Schedule.
| Asset Value | Annual Rate |
| --- | --- |
| First $100,000 | 0.70% |
| Next $150,000 | 0.60% |
| Next $250,000 | 0.50% |
| $500,000 and greater | 0.40% |