Lower-cost banking for local not-for-profit organizations
20 monthly transactions, including five in-branch deposits
Easy account access and around-the-clock depository
---
---
Best for
Free up funds for your good cause by saving on your day-to-day banking. This unique account is our way of recognizing the good work you're doing, providing lower-cost banking for organizations like yours.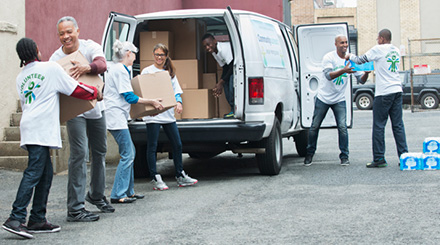 Small local not-for-profit organizations
Organizations who need access to in-branch deposits – anytime of the day or night
Organizations looking to save money – so they can put more funds to good use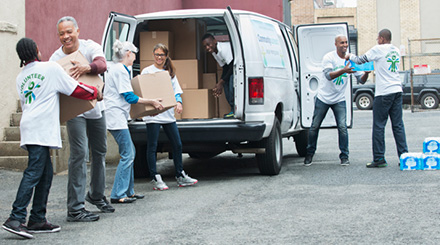 Small local not-for-profit organizations
Organizations who need access to in-branch deposits – anytime of the day or night
Organizations looking to save money – so they can put more funds to good use
---
Not sure where to start?
Let us help you find what you need by telling us a bit about your business.
---
More information to help you choose
Account fees
Account fees
No Monthly Account Administration fee when you keep a minimum balance1 of $5,000 in your account.
| | |
| --- | --- |
| Account fees | |
| Monthly Account Administration fee | $2.50 |
| Monthly transactions2 included (includes a maximum of five in-branch deposits) | 20 |
| Monthly items on deposit (e.g. cheque) | 25 |
| Monthly notes (currency) on deposit included | $2,500 |
| Monthly notes (coin) on deposit included | $250 |
| Quarterly paper eStatement | Included |
| Per item fees when you exceed the number of free transactions: | |
| Deposit fee2 (includes branch, ATM and electronic3 credits | $1.25 |
| Cheque | $1.25 |
| Electronic3 debit | $1.25 |
| Withdrawal | $1.25 |
| Bill payment | $1.25 |
| Deposit contents: | |
| Notes (currency) on deposit (per $1,000) | $2.25 |
| Coin on deposit (per $100, U.S. coin accepted at par) | $2.25 |
| Items on deposit (per item, e.g. cheque) | $0.20 |
| Additional fee, per statement cycle, if your statement is produced more frequently than quarterly | $5.00 |
Account features
Account features
What you get every month
20 monthly transactions2 - including five in-branch deposits
Access to your account in-branch and through all our electronic channels
Around-the-Clock Depository – ideal for special events (includes coin wrappers)
Personal-size Securitone cheques
Quarterly paper statement (with Cheque Images held in safekeeping) or eStatement
Cheque and cash deposits (within specified limits)
BMO® Debit Card for Business
Available in Canadian dollars
---
Next steps
Switch to BMO
Switch to BMO easily & seamlessly
Transfer your banking to BMO with PowerSwitch®
Whether you already bank with us – or intend to – it is easy to switch all your banking to BMO Bank of Montreal.
PowerSwitch is a FREE, convenient service for transferring existing Pre-Authorized Payments (automatic bill payments) from your bank account(s) from other financial institutions to BMO.
PowerSwitch at your convenience…what to expect
We will take care of the switch for you. Simply visit us in person, call us, or make an appointment to meet. The transfer generally takes four to six weeks to complete.
Switching to BMO is easy & seamless.
PowerSwitch makes it easy to switch… and start banking with us
Visit your local branch to provide your details and authorization. All Pre-Authorized Payments will be managed by the PowerSwitch Service Centre on your behalf. PowerSwitch works for you by:
Transferring your Pre-Authorized Payments from your old financial institution. For example, automatic debit payments such as utilities, loans, insurance, club memberships, telephone, Internet, etc
Sending automatic notification to your Pre-Authorized Payments so you don't have to complete numerous account change forms
Confirming the Pre-Authorized Payments and corresponding timelines when the transfers will be complete
Scheduling the changes so you can manage your cash flow during the process
Providing advice on what to expect throughout the process
Ways to bank
Ways to bank from in-person, to online or mobile or tablet
Count on hassle-free access to your business accounts
Bank online, by phone or using your mobile device 24 hours a day, 7 days a week, 365 days a year1
Take advantage of over 900 BMO® branches across Canada offering a full range of financial services
Access your money, make deposits, transfer funds, get account balances and pay bills at any BMO® ATM
Use your BMO Debit Card for Business to make purchases anywhere you find the Interac®‡ Direct Payment in Canada and the Maestro®* network anywhere else in the world.
Call us seven days a week (8 a.m. – 8 p.m. EST), we're here to help. For questions, call the Customer Contact Centre – Commercial Service at 1-877-262-5907 or TTY 1-866-859-2089
Banking Agreements
---
What to bring to a branch meeting
---
---
---
®Registered trade-mark of Bank of Montreal
®* MasterCard is a registered trademark of MasterCard International Inc.
All other marks or registered trade-marks are the property of their respective owners.