Low-Rate Mortgage
Take advantage of our low-rate fixed closed mortgages which offer a great 5 or 10 year fixed rate. With an amortization of 25 years or less you'll pay your mortgage off faster and save in interest.
Calculate your monthly payment
Choose this Mortgage if you want...
a simple, easy to understand mortgage with a great rate
to become mortgage free within 25 years
peace of mind knowing your rate will not rise during the term
want 10+10 pre-payment options that let you pay down your mortgage faster
to budget with certainty, knowing that your mortgage payments won't change
5 year fixed
low-rate mortgage1
%†
10 year fixed
low-rate mortgage1
%
Compare our 5 year fixed closed mortgages
Note: During the term of the 5 year low-rate mortgage and in the first 5 years of the 10 year low-rate mortgage, full repayment before maturity can only occur if the property is sold to an unrelated purchaser at fair market value or if the mortgage is refinanced into another BMO mortgage product. For the 10 year low-rate mortgage, the mortgage can be paid off without restriction in the last 5 years of the term. Prepayment charges will apply.

Online
Complete your application online and we will contact you within two business days to follow-up with you.
Schedule an appointment
In just a few easy steps, choose the date, time and branch to book an appointment that works with your schedule.
1The interest rate for a fixed rate mortgage is calculated half-yearly, not in advance. Interest rates are provided for informational purposes only and can change at any time without notice. These interest rates are not applicable to the Homeowner ReadiLine®.

†3.31% APR. Available on the 5-year fixed (closed) low rate mortgage. The Annual Percentage Rate (APR) is based on a $350,000 mortgage, 25 year amortization and an appraisal fee of $300, which may be required to complete your lending application. Mortgage funds must be advanced within 90 days from the date of application. Appraisal fees are subject to change. An increase in the appraisal fee may result in an increase to the APR. This offer may be changed, withdrawn or extended at any time without notice. Applications are subject to meeting Bank of Montreal's usual credit criteria. Some conditions may apply. This offer is not available for the regular 5-year fixed (closed) rate mortgage or the Homeowner ReadiLine®.

®Registered trade-marks of Bank of Montreal.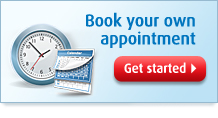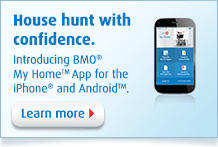 5 Year Low Rate
Mortgage (closed)
%*
Prime Rate
%
Smart Saver
%