Buy my first home
Buying your first home is a big decision and a major financial commitment. Relax – BMO is here to help you every step of the way!
What is a mortgage?
A mortgage is a loan to buy a home. Like any loan, interest is charged on the amount you borrow (the principal). Each mortgage payment consists of repayment of the principal, plus interest.
But there are a few characteristics that differentiate a mortgage from other types of loans.
Principal versus interest. In the early years of a mortgage, a greater percentage of each payment covers interest charges and a smaller percentage covers principal repayment. As the amount you owe decreases, more of each payment goes toward paying down the principal.
Building equity. The more principal you pay down, the more equity you build up in your home. Basically, equity is the amount of your home that you own. If your home is worth $300,000 and your mortgage is for $250,000, you have $50,000 in equity.
Mortgage options
With a number of options available, we can help you tailor your mortgage to your lifestyle, your current financial situation, and your risk tolerance. Here are the main choices you can discuss with your BMO Mortgage Representative or Mortgage Specialist.
Amortization
The amortization period is the length of time it will take you to pay off your entire mortgage. The traditional amortization period is 25 years and in cases where you have less than a 20% down payment, that is the maximum amortization period allowed. You may choose a shorter amortization period or, if you have at least a 20% down payment, you can even choose greater (up to 30 years). The longer the amortization, the lower your monthly mortgage payments, but the more you will pay in interest over the life of the mortgage.
Term
The mortgage term is the amount of time your mortgage contract is in effect. At the end of each term, you need to renew your mortgage for another term. This is an opportunity to consider whether you'd like to make any changes to your mortgage. Most mortgage terms are five years, though shorter or longer terms may be offered. The agreed-upon interest rate is in effect for the term. At the end of the term, you can renegotiate the rate and other details of the contract for the next term.
Open or closed
An open mortgage provides the flexibility of being able to repay all or part of your mortgage at any time without a prepayment charge. A closed mortgage limits your prepayment options, but usually offers a lower interest rate than an open mortgage.
Payment schedule
Traditionally, mortgage payments are made every month. By paying more frequently, you'll pay your mortgage down faster and pay less interest over the long term.
You'll see the biggest savings if you choose accelerated payments. An accelerated bi-weekly payment, for example, means that you pay one-half of your monthly payment at a time, but pay every two weeks rather than two times a month. This means you make 26 payments a year instead of 24 — and those two extra payments make a significant difference:
| Payment frequency | Your payment | Number of payments a year | The total interest you'll pay | Interest saved |
| --- | --- | --- | --- | --- |
| Monthly (one payment each month) | $1599.52 | 12 | $229,863.58 | -- |
| Semi-monthly (you pay half your monthly payment, twice each month) | $798.77 | 24 | $229,168.39 | $695.19 |
| Bi-weekly (you make a payment every two weeks) | $734.73 | 26 | $229,209.41 | $654.17 |
| Accelerated bi-weekly (you pay half your monthly payment, every two weeks) | $799.76 | 26 | $185,837.13 | $44,026.45 |
| Weekly (You make a payment every week) | $367.16 | 52 | $228,934.65 | $928.93 |
| Accelerated Weekly | $399.88 | 52 | $185,351.00 | $44,512.58 |
Based on a mortgage of $250,000 at 6% (APR) interest on a fixed term with different payment frequencies for a 25-year amortization.
Fixed rate or variable
With a fixed rate mortgage, you get the security of knowing that the interest rate on your mortgage won't rise during the term, even if interest rates increase. Because the principal and interest are predictable, you'll know exactly how much you will owe at the end of the term.
With a variable rate mortgage, the interest rate changes with BMO's prime rate. Because your monthly payments remain the same throughout the term, the amount applied to the principal versus interest may change with fluctuations in BMO's prime rate. Your amortization period (number of years to repay the mortgage) may vary and be longer if rates have risen or be shorter if rates have fallen since the start of the term. You can switch at any time and at no cost to a fixed rate mortgage, provided the new term is the same or longer than the remaining length of your current closed variable rate term.
Flexible mortgage options
Your BMO mortgage has a number of flexible mortgage options that can help you over a rough spot in your life (such as illness or job loss) or put you in a better position when you want to sell your home and buy a new one.
Skip A Mortgage Payment Option
Life brings unexpected events. And sometimes those things require a little extra cash. That's why BMO gives you some helpful mortgage payment options to turn to when your finances are stretched:
Take a Break Option*
To tide you over a cash crunch, you can skip up to one month of mortgage payments (principal and interest) per calendar year. Choose to skip one of:
1 monthly payment
Up to two bi-weekly or semi-monthly payments
Up to four weekly payments
Family Care Option*
Skip up to four months of mortgage payments (principal and interest) once per year if you or your partner must leave your job to care for a new baby or a sick family member. Choose to skip one of the following:
four consecutive monthly payments
eight consecutive bi-weekly or semi-monthly payments
16 consecutive weekly payments
Keep in mind, any time you skip a mortgage payment, you continue to accrue interest. This means you'll pay more over time. You can pay back your skipped payments anytime without penalty. Some restrictions apply for both mortgage payment options, so ask us for details.
*Take a Break or Family Care Options are not available with the Low-Rate Fixed Closed Mortgage, Take a Break and Family Care options apply to principal and interest payments on conventional and Genworth/CMHC-insured mortgages for owner-occupied single-family dwellings only, including condominiums and duplexes. For mortgages insured against default, customers must have prepaid principal at least equal to the amount of payment(s) to be skipped. Any mortgage insurance premiums and tax payments cannot be skipped. For MICC mortgages, only the Take a Break option is available. The Family Care option is not available to self-employed individuals. Customers currently receiving Mortgage Disability benefits (provided by Sun Life Assurance Company of Canada) are not eligible for skipped payments. Interest for the skipped payment is added to the principal. The balance of your current mortgage plus the skipped payment must not exceed the original amount of your mortgage with us. For conventional uninsured mortgages, the balance of your current mortgage plus the skipped payment must not exceed 80% of the lesser of your home's present value or the original amount of your mortgage with us.
Mortgage Cash Account
When you use your prepayment options with a BMO mortgage, your principal prepayments go towards building a Mortgage Cash Account1. With the Mortgage Cash Account, you can re-borrow prepaid funds at any time, in amounts starting from $2,500, without charge. The re-borrowed funds are added to your mortgage principal at your existing interest rate2 for the remainder of the term.
Talk to a BMO mortgage professional
A BMO home financing expert can help you select a mortgage based on your financial situation, comfort level and goals. Just use our Real-Time Online Appointment Booking Tool to speak with a BMO Mortgage Representative in-branch or meet with a BMO Mortgage Specialist when and where it is convenient for you. Or, you can begin the pre-approval process online now.
1 Mortgage Cash Account is not available on the Low Rate Fixed Closed Mortgage. Some conditions apply.

2 If your interest rate is fixed, it is calculated half-yearly, not in advance. If your interest rate is variable, it is calculated monthly, not in advance.

Online
Complete your application online and we will contact you within two business days to follow-up with you.
Schedule an appointment
In just a few easy steps, choose the date, time and branch to book an appointment that works with your schedule.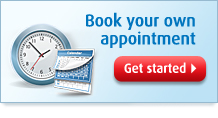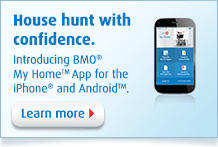 5 Year Low Rate
Mortgage (closed)
%*
Prime Rate
%
Smart Saver
%