Personal Loan
Whatever you need, a BMO Personal Loan can help you get it. It's perfect for virtually any type of need.
Starting at $5,000
Choose from fixed payments paid monthly, semi-monthly, bi-weekly or weekly
Repayment period from 1-5 years or longer depending on your borrowing purpose
Choose a fixed or variable interest rate.
Enjoy flexible payment options for added protection from rate fluctuations under a fixed term payment
Make additional payments without penalty
Defer up to one month's payment twice a year1
1 Some conditions apply.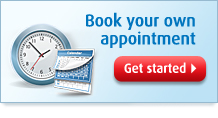 Mortgage Rates
5 year Low Rate (closed) Special Rate

%*

Prime Rate
Prime Rate
%