Travellers Cheques
American Express Travellers Cheques are ready when you are.
They never expire and give you peace of mind when you're travelling.
Safer than cash
Refundable if lost or stolen
24-hour customer service
Accepted around the world
Available in Canadian & U.S. dollars, Euros or British pounds
Cheques for Two™†† are perfect when you're travelling as a pair in the U.S.
24/7 emergency assistance for help with lost passports and credit cards
Delivered to your door, within 7 business days, anywhere in Canada, Monday – Friday (Courier charges apply)
Order your travellers cheques
through online banking now or buy them at your local
BMO Bank of Montreal branch.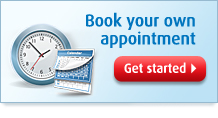 Smart Saver Account
%
Premium Rate Savings Account
%