Account Fees
Service
Primary Chequing
Interest Chequing3
Premium Rate Savings
Smart Saver4
Self-serve
Electronic (per item)
Pre-authorized bill payment/debit
$1.00
$1.00
$1.00
$5.005
Debit card purchase1
$1.00
$1.00
Not available
Not available
Interac Online debit
$1.00
$1.00
Not available
Not available
ATM (per item)
Cash withdrawal
$1.00
$1.00
$5.00
$5.00
Funds transfer
$1.00
$1.00
$1.00
Free
Electronic bill payment
$1.00
$1.00
Not available
Not available
Account history inquiry
$1.00
$1.00
$1.00
$0.85
Telephone banking (per item)
Funds transfer
$1.00
$1.00
$1.00
Free
Bill payment
$1.00
$1.00
Not available
Not available
Account history inquiry
$1.00
$1.00
$1.00
$0.85
Online/ Mobile banking (per item)
Funds transfer
$1.00
$1.00
$1.00
Free
Bill payment
$1.00
$1.00
Not available
Not available
Cheque drawn on account (per item)
$1.00
$1.00
Not available
Not available
Assisted-service
ATM (per item)
Paper bill payment
$1.00
$1.00
Not available
Not available
Branch/ BMO Customer Contact Agent (per item)
Withdrawal
$1.00
$1.00
$5.00
$5.00
Funds transfer
$1.00
$1.00
$1.25
Free
Bill payment2
$1.00
$1.00
Not available
Not available
Account history inquiry
$1.00
$1.00
$1.25
Free
Other services
Account statement/ passbook (per month)5
$2.00
$2.00
$2.00
$2.00
Fees funded from U.S. Dollar accounts will be collected in U.S. dollars.
1 Additional fees may be charged by the merchant for use of point-of-sale devices.
2 A bill payment handling fee of $1.50 applies where applicable.
3 This information is for existing account holders only.
4 This account cannot be included as part of an Everyday Bank Plan.
5 A free statement/passbook is not included with the Teens, Students, and Recent Graduates discounts under an Everyday Bank Plan.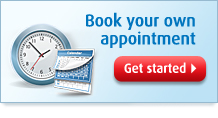 Smart Saver Account
%
Premium Rate Savings Account
%*
*up to $59,999.99