Make the switch to BMO with PowerSwitch®
PowerSwitch is a free service that allows you to transfer your Pre-Authorized Payments from another financial institution to your BMO bank accounts.
Making the switch is seamless and saves you the inconvenience of calling each of your billers directly. Just give us the details of your payments and we will do the rest.
NEW at BMO: PowerSwitch via Online Banking
Switching your Pre-Authorized Payments just got easier.
Now you can make the switch in the comfort of your home just by logging into BMO Online Banking. Simply click on the "Products and Services" tab, select "PowerSwitch", and provide the details of your payments.
This service in BMO Online Banking:
Transfers your pre-authorized payments and deposits to your new BMO account
Notifies your pre-authorized billers of your switch
Provides you with forms to change your direct deposits, such as payroll deposits and government issued cheques.
Here's a demo that explains the ease of PowerSwitch®. Login to Online Banking now to get started.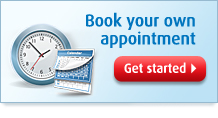 Smart Saver Account
%
Premium Rate Savings Account
%