Make the switch to BMO with PowerSwitch
BMO PowerSwitch makes transferring your banking to BMO from another financial institution easy and hassle-free.
This free service will save you time and banking fees by having all of your accounts and payments under one BMO bank plan.
Here's how PowerSwitch does the work for you:
Transfers your pre-authorized payments and deposits to your new BMO account
Notifies your pre-authorized billers of your switch
Provides you with forms to change your direct deposits, such as payroll deposits and government issued cheques.
Coordinates with your current bank to transfer your account balance to your new BMO account
Sends a request to close your old bank account after all your pre-authorized transactions have been transferred to BMO
Make the switch today!
Call Us
Speak with one of our customer services representatives who can get you started.
Schedule an appointment
In just a few easy steps, choose the date, time and branch to book an appointment that works with your schedule.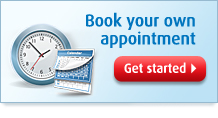 Smart Saver Account
%
Premium Rate Savings Account
%