Our Approach
As a leading North American financial institution, we finance opportunity, create wealth and maximize returns to our shareholders. At the same time, BMO is a major business enterprise playing a vital role in supporting economic prosperity for our customers, employees and communities. The wealth BMO creates is shared through employee compensation, the procurement of goods and services, shareholder dividends, support for charitable initiatives and taxes.
Distribution of revenues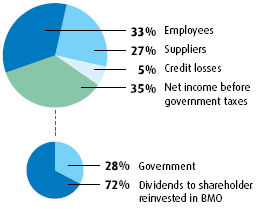 The wealth created by BMO is widely shared. In 2012, our revenue was $16,130 million. Of this amount, approximately 33% went to employee compensation, 27% went to suppliers and 5% went to our provision for credit losses. Of the remaining $5,711 million, 28% went to governments in the form of income taxes and other levies and 72% was returned to our shareholders or reinvested in our company.
We create wealth in a variety of ways. Below are some examples of the direct economic value BMO generated and distributed in fiscal 2012:
Net income
Reported net income rose by 35%, or $1.1 billion. Adjusted net income increased 25%, or $0.8 billion.
Revenues
Reported revenue rose by $2.2 billion, or 16%, following growth of 14% in 2011. Adjusted revenue increased by $1.3 billion, or 10%. The strong growth rates reflect the benefits of the acquisition of M&I and organic growth.
Government levies and taxes
Total government levies and taxes were $1,521 million. These include payroll levies, property taxes, provincial capital taxes, business taxes, harmonized sales tax, GST and other sales taxes and sundry taxes. For a year-over-year breakdown of government levies and taxes, see Table 8: Non-Interest Expense and Expense-to-Revenue Ratio in the 2012 Annual Report.
Shareholder value
In 2012, reported return on equity (ROE) increased 0.8 percentage points from 2011 levels and adjusted ROE increased 0.5 percentage points. We achieved good growth in both earnings available to common shareholders, as well as increased average common shareholders' equity. For more information on our financial performance, see our Annual Report and our Investor Relations website.
Employment
We employ more than 46,000 full-time equivalent employees. Total employee compensation in 2012 was $5,628 million. That number includes salaries, performance-based compensation and employee benefits. For a year-over-year breakdown of employee compensation, see Table 8: Non-Interest Expense and Expense-to-Revenue Ratio in the 2012 Annual Report.
Purchasing goods and services
In 2012, we purchased over $3 billion worth of goods and services from our preferred suppliers in North America. Of that, approximately $2.4 billion was spent in Canada and over $1 billion was spent in the U.S.
Investing in our communities
In 2012, BMO contributed more than $87.6 million* in donations, sponsorships and events to groups, organizations and programs that help build and sustain resilient, vital and healthy communities in Canada and the U.S. For more information, visit our Community website.
Operating costs
Total premises and equipment costs were $1,916 million and included rental of real estate premises, furniture and fixtures, property taxes, computers and equipment. For a year-over-year breakdown, see Table 8: Non-Interest Expense and Expense-to-Revenue Ratio in the 2012 Annual Report.

Note: Adjusted results in this section are non-GAAP and are discussed in the Non-GAAP Measures section of the 2012 Annual Report.